Are you looking for a way to escape from the hustle and bustle of everyday life and relax in your own peaceful oasis? Transforming your backyard into a beautiful landscape that provides a much-needed retreat is one of the best ways to do just that! This blog post will give you all the inspiration and tips you need to create a stunning outdoor space where you can relax, unwind, entertain friends and family, or simply take some time out for yourself. We'll be exploring creative gardening ideas, natural décor elements, comfortable furniture styles, entertaining must-haves and more – so keep reading if you'd like to learn how to turn your backyard into an enjoyable haven!
Invest in Patio Furniture – Choose furniture that's both comfortable and waterproof
As a homeowner, there's nothing quite like a comfortable outdoor space to relax in after a long day. Whether you're an avid gardener or simply enjoy the fresh air, investing in patio furniture that's both comfortable and waterproof is a smart move. Not only will it provide a comfortable place to lounge and entertain guests, but it will also stand up to the elements and last for years. From cosy sofas to sleek dining sets, there's no shortage of options when it comes to finding the perfect outdoor furniture to suit your style and needs. So why not elevate your outdoor living space and make the most of your garden oasis?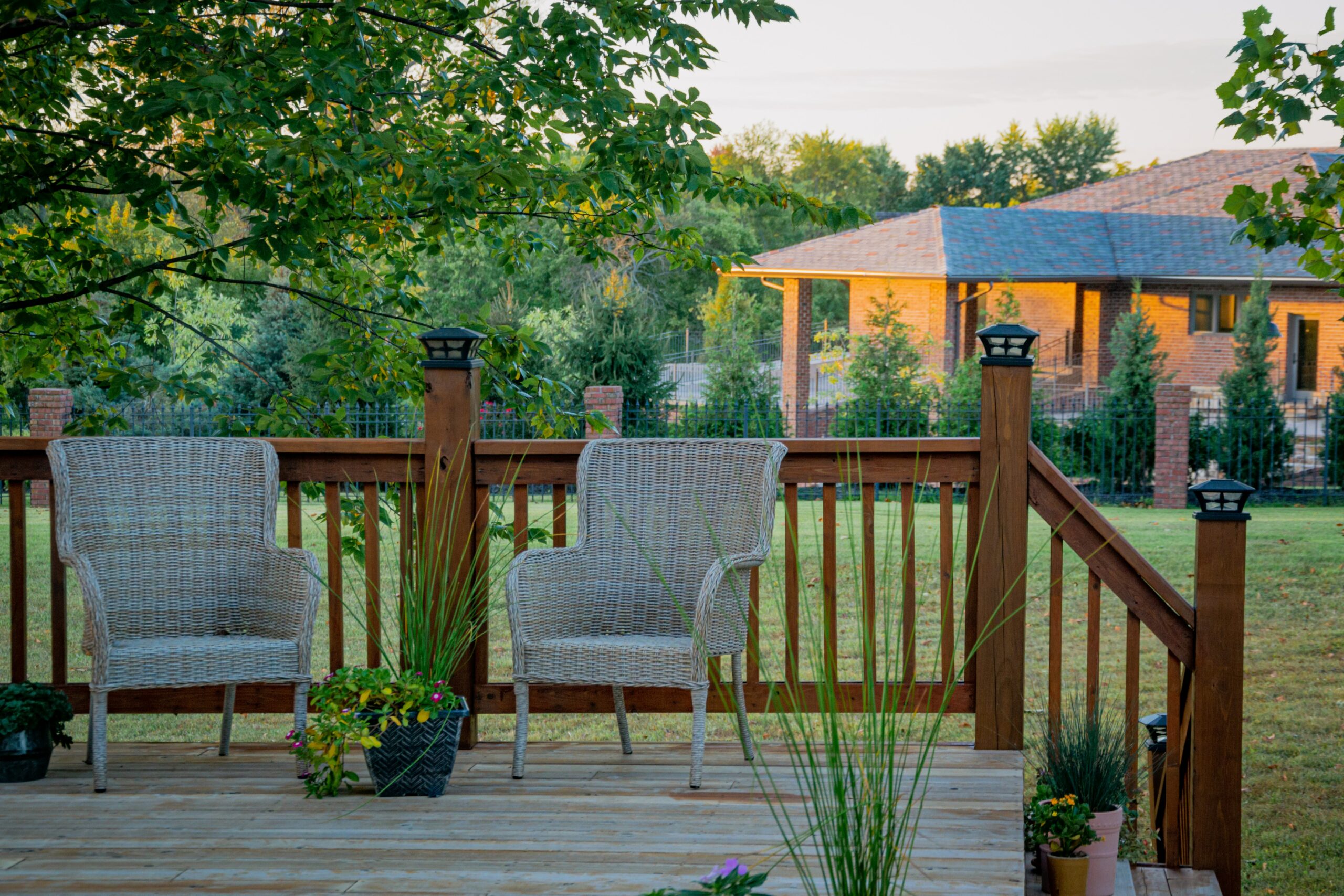 Add Privacy with Fencing or Hedges – Use plants or other materials to create a secluded area
For homeowners and gardeners alike, creating a peaceful and private outdoor space is essential. One of the best ways to achieve this is by using fencing or hedges to enclose your yard. Not only do they create a beautiful backdrop for your garden, but they also add much-needed privacy from the outside world. Fencing can come in a variety of materials, from classic wood to sleek metal, while hedges offer a natural alternative, adding a touch of greenery to your space. Whichever option you choose, you can rest assured that you'll be able to fully enjoy your backyard oasis without any prying eyes.
Install a Fire Pit – Give your backyard a cosy and inviting atmosphere
As a homeowner or gardener, transforming your backyard into a relaxing oasis is a top priority. One way to achieve this is by installing a fire pit. Not only does it create a cosy atmosphere, but it also provides a space to gather around with friends and family, roast marshmallows, and enjoy the great outdoors. With so many styles and designs to choose from, a fire pit is a versatile addition to any outdoor space, and it's sure to keep you warm and comfortable on chilly evenings. So why not take the plunge and add a fire pit to your backyard? It's the perfect way to create a welcoming and inviting space that you'll be able to enjoy for years to come.
Plant Colorful Flowers & Greenery – Bring beauty and life into the area
Homeowners and gardeners alike can elevate the beauty of any outdoor space by planting colorful flowers and greenery. There's something magical about watching a blooming flower bed or a vibrant green fern swaying in the breeze. It adds life to an area and creates a peaceful and harmonious environment. Planting colorful flowers and greenery doesn't just enhance the visual appeal of a space, it can also improve air quality, provide a habitat for beneficial insects and boost a property's curb appeal. Whether you're looking to revamp your front yard or backyard oasis, adding a mix of colorful flowers and thriving greenery is a surefire way to achieve a stunning and welcoming outdoor space.
Hang String Lights – Spice up night time gatherings with unique lighting fixtures
Homeowners and gardeners alike know how important it is to create the perfect ambiance for their outdoor gatherings. And what better way to do that than with unique lighting fixtures? Hang some string lights, and you'll instantly create a warm, inviting atmosphere that's perfect for hosting anything from cocktail parties to family dinners. Not only do these lights make a statement, but they also provide extra illumination so you can enjoy your outdoor space well into the night. So why settle for boring old lighting when you can spice things up and create a magical outdoor oasis?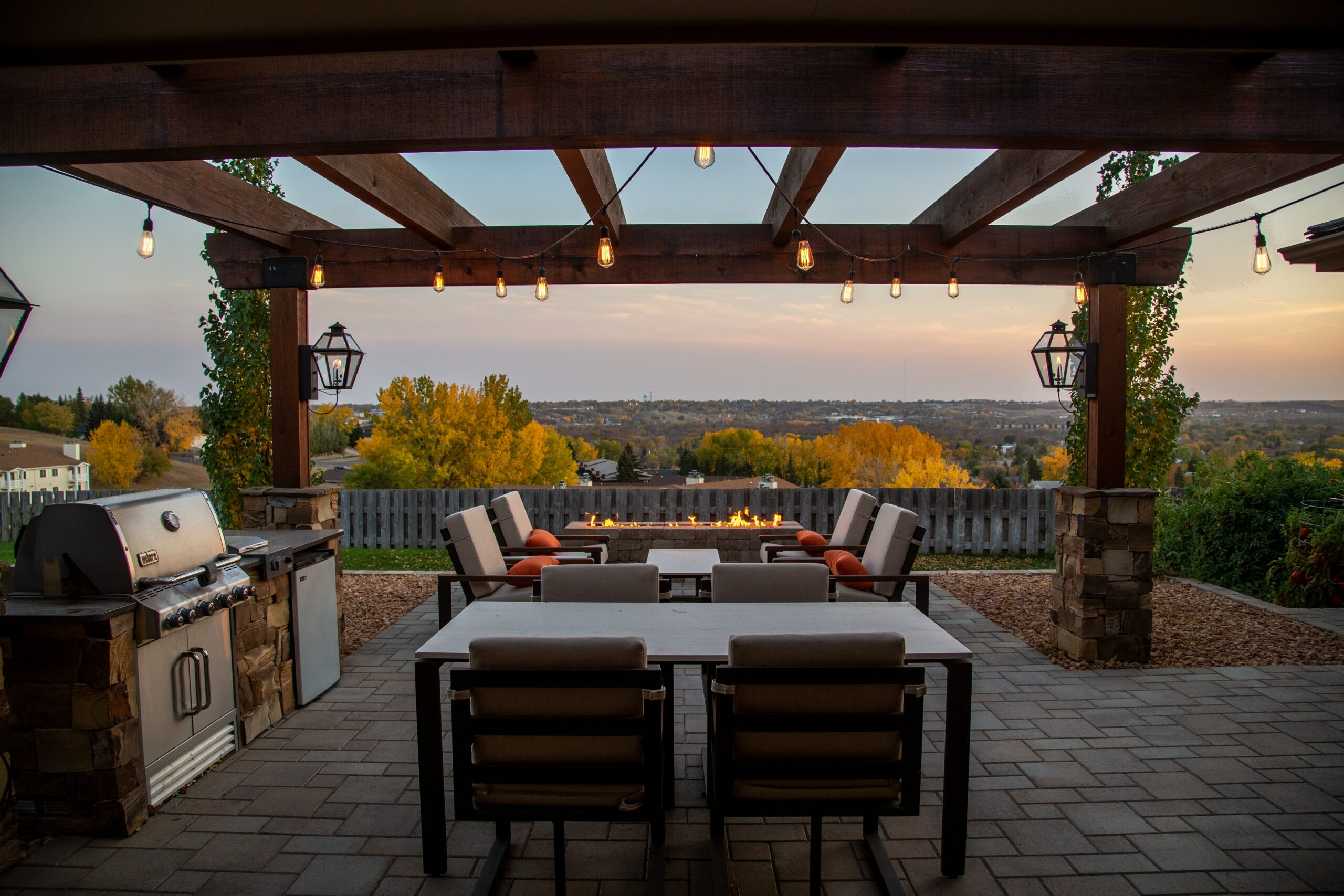 Create an Outdoor Kitchen for Entertaining- Consider features such as built-in grills, counter space, and a sink
For homeowners who love to entertain and enjoy the great outdoors, creating an outdoor kitchen is the perfect solution. With built-in grills, ample counter space, and a sink, your backyard can become the ultimate entertainment hotspot. Imagine being able to cook and socialise with your guests at the same time, all while enjoying the beauty of your garden. And for those with a green thumb, incorporating your favorite herbs and veggies into your outdoor kitchen design is a great way to add a personal touch and elevate your cooking game. Whether you're hosting a summer BBQ or an intimate dinner party, an outdoor kitchen will no doubt impress your guests and make for unforgettable memories.
Through these simple ideas for creating the ideal backyard getaway, you can make your outdoor space inviting and comfortable in no time. Whether you decide to invest in patio furniture, create an outdoor kitchen, add privacy with fencing or hedges, install a fire pit, plant colorful flowers or hanging string lights; you can turn any backyard into your own private oasis. The options are endless! Spend some time exploring different ways to personalise and customise your outdoor area so that you can enjoy every moment spent there with your family and friends. By following these recommendations to make the perfect backyard retreat, it will easily become everyone's favorite spot of relaxation and entertainment.